As many of you are aware last year I turned this blog pink in the hope that it would bring more awareness to help find April. But as the days of
the case
unfold it is with sadness that we now know that she has passed. But then this week there has been the great news in America that the
three girls
who had been kidnapped 10 years ago have been found alive.
It must be a bittersweet pill as a parent of a missing child to hear both those news stories. This is why I'm dedicating this blogpost to all the missing children in the world and in particular to Madeline McCann whose 10 years old today!
6 years ago, Madeleine went missing whilst on holiday in Praia da Luz, Portugal on Thursday 3rd May 2007.
If you have any information on her whereabouts or think you have seen her then contact:
Your local police force immediately, AND
+44 845 838 4699 or investigation@findmadeleine.com
OR Crimestoppers in confidence on 0800 555111 / www.crimestoppers-uk.org
Don't let another family lose hope. Help us keep her search going.
If you have any other information on any of Britain's missing children then please help
find them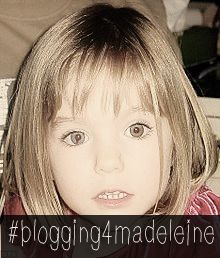 If you are a blogger please join me and join up with the linky on the BritMums
site
BNM
Big thanks to CJ for organising this campaign.